Póvoa de Lanhoso and surroundings – Fun and extreme sports
Adventure Diverlanhoso Park – an adventure sports park, which includes a restaurant. Here are some of the available activities: Kayak/Canoe; rubber dinghy rides; raft descents; MTB; climbing; Rappel; Slide; Paint-Ball; Target shooting (arch, rifle, fisgas, blowpipes); Treasure hunt (on foot, BTT, 4×4); Orienteering; 4×4 Tourist ride Serra do Gerês/ Serra da Cabreira, Moto 4 touristic ride Serra do Gerês; Kart Cross; underground labyrinth; helicopter.
More information on the website of Diverlanhoso.
Verim River Beach – located on the river Cávado, on the northern edge of the municipality of Póvoa de lanhoso, has a sports-adventure centre where you can practice canoeing, slide, mountain biking.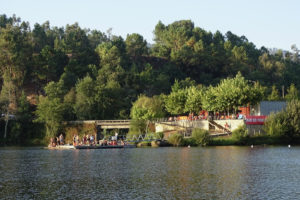 Bar do Pontão – in the dam of Andorinhas on the river Ave, this in the southern limit of the municipality of Póvoa de Lanhoso, in Sobradelo da Goma, has a floating recreation structure, with canoeing available, and where it is held annually the Triathlon of Andorinhas, race that counts for the North Circuit of Triathlon Road.
Other infrastructures in Póvoa de Lanhoso: indoor swimming pool, tennis courts.
More information on the site Câmara Municipal de Póvoa de Lanhoso.
Nearby:
– Peneda-Gerês National Park
– Hiking, horses
– Caniçada Dam – water sports
– Ermal Dam – water slide, water sports.
---
---