Póvoa de Lanhoso has important testimonies of its history that is worth visiting, such as the medieval route. Made up of beautiful examples of religious, military and civil buildings, it is a route not to be missed, given that there are artistic and architectural testimonies of great importance, particularly in Romanesque and Gothic architecture.
Among the examples of the medieval period are the Romanesque Monastery of Fontarcada, the Romanesque churches of Verim and Lanhoso, the Castle of Lanhoso, the Tower of Machados, an excellent example of civil architecture, the Bridges of Mem Gutierres and Perozelo and the Pillory of Moure.
Visitors should not miss the opportunity to visit the Marian Sanctuary of Our Lady of Porto d'Ave built in the middle of the 18th century. The heritage route would not be complete without a visit to the best examples of Art Nouveau style in the municipality, namely the Theatro Club and the Quinta Villa Beatriz house.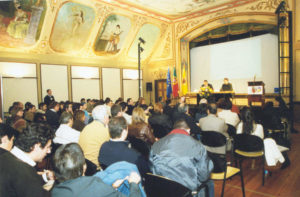 Theatro Club – Designed by Ascensão Machado and commissioned by António Lopes, the town's benefactor, this building dates back to 1904. Although of reduced dimensions with a beautiful and very decorated room of spectacles for 120 people, it provided and provides to the local population a place of enchantment. Currently recovered, it functions as a theatre, cultural events and exhibition gallery. Find out more and the schedule of current activities on the site of the Theatro Club.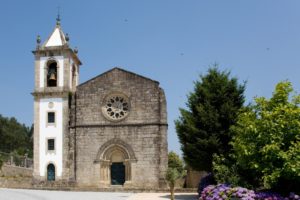 Romanesque monastery of Fontarcada – dating from the 12th century, it is one of the oldest in Portugal, having been part of a monastery, extinguished in the 15th century. The current church is a little more recent, from the 13th or 14th century, and restored in the 16th century, is now a national monument since 1910. It is an austere church of Romanesque origin, being possible to see in the main chapel traces of medieval frescoes. The bell tower was built later, has a slight detour.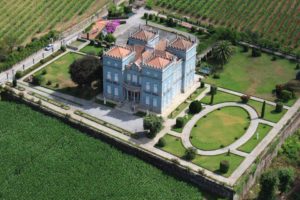 Quinta Villa Beatriz – it is a 19th century palace by the Ave river, built for D. Beatriz, fiancée of Francisco Antunes Guimarães, one of the wealthiest families in the village, but she never inhabited it because she died young in Brazil. It is an example of Brazilian-inspired construction common in northern Portugal in the early twentieth century, known as "Brazilian" houses, but with a beautiful profile and an enviable location on the farm with the same name. Farm where the viniculture is exploited in 70 ha of land producing green wine with its own brand, it also has gardens with statuary, wine cellar, agriculture and cattle breeding, and also a rural museum and a river beach.
More information on the site Câmara Municipal de Póvoa de Lanhoso.
---
---