Póvoa de Lanhoso and surroundings – Shrines and Religious Temples
Pilar Sanctuary – inspired by the church of N. Sra. do Pilar in Vila Nova de Gaia and Bom Jesus do Monte, a wealthy merchant, André da Silva Machado, a native of Póvoa de Lanhoso, had this church built in 1860. A baroque church, with only one nave, covered with a stone vault and a golden carved high altar, this structure is completed by a series of ordeals that portray the life of Christ.
The devotion to Senhora do Pilar, increased by the reports of miracles granted, which gave rise in 1734 to the replacement of a little chapel, where today is the Chapel of Santana, by this Baroque temple. The octagonal body of the church reveals an extraordinary work of stone, which is lined with tiles.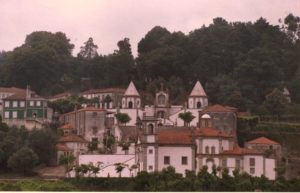 Sanctuary of Our Lady of Porto d'Ave – Temple that includes in its space the Museum of Sacred Art and a staircase with 8 chapels that portray biblical episodes. Every year a pilgrimage is made to this shrine with the pilgrimage of Porto D'Ave that takes place on the last Sunday of September, during which it is traditional to eat steaks on long common tables set up in the camp near the shrine.
---
---